"My conversion thanks to San Damiano"
I was conducting professional and business activities that put me under a great deal of stress. I had abandoned practically all religious practices and no longer lived a Christian life. A drop of water that falls on the ground cannot be retrieved. Only the power of the sun can return it to the sky. Such was the grace of conversion that I received.
"I didn't want to hear about San Damiano" For the first three months of 1970, my wife spoke to me about the apparitions of the Blessed Virgin in San Damiano, saying: "The Blessed Virgin is appearing on Earth". I was incredulous and answered her unkindly, telling her that she was crazy. And I added: "If they told you that Christ was in the desert, you'd believe it". In May 1970 she spoke to me about San Damiano for the third time. She had this idea that humanity was in such a state that it was not surprising that the Holy Virgin had come, and that we should be happy about this because it meant that we were not abandoned. I answered her even more unkindly. She started to cry and said: "I'm not going to speak to you about this again!".
"Irresistible compulsion to go to San Damiano: return to God."
At the beginning of June, on my way home from a trip to Germany, one night, I found on my bedside cabinet a book by Father Gian Gabriele: "The Presence of the Holy Virgin Mary in San Damiano". I opened the book and read it rapidly with a critical approach until 3 o'clock in the morning. Right after finishing, I fell fast asleep, but three hours later I woke up in a state of internal turmoil remembering the Holy Virgin's words of love that I had read the night before. I found a Rosary, some rosary beads, in the drawer of the bedside cabinet in the room and rushed to Confession at the Cathedral of Cambrai, since it was a long time since I had been in a state of grace. I then attended Mass. From that moment on, unless impeded by health issues, I have never missed daily Mass and Holy Communion. I had been pervaded, suffused with an immense desire to love God, to know and serve Him and to deepen my faith. I had found God in my life, I heard his call, I actually felt myself burning inside. It was a great return for me, liberation from the enthralment of the Devil, rebirth to divine life and a feeling of indescribable happiness. And I felt an irresistible pull towards San Damiano. The priest Father Edmond Dartus, who had witnessed my conversion, told me: "If your conversion lasts, I will believe in San Damiano!". Eleven years later, I noticed that he had a picture of Mamma Rosa in his breviary. Then he admitted to me: "Now I pray to her because I believe in her powerful intercession in Heaven".
"Only love can conquer hate: reconciliation between a father and a son"
The testimonial that I am about to give is a duty towards the truth and way of giving thanks to God. My father hadn't wanted to see me for years; he barely knew my family. My mother had only just undergone surgery so I went to visit her. That day my father refused to speak to me. The next day I met him and asked if I could speak to him. I wanted to tell him what I had just discovered: – Have you heard about San Damiano? – What is it? he asked. So I replied: San Damiano is the Blessed Virgin who appears on earth! My father was flabbergasted. He stared at me and said: -Do you believe in these things? So I replied: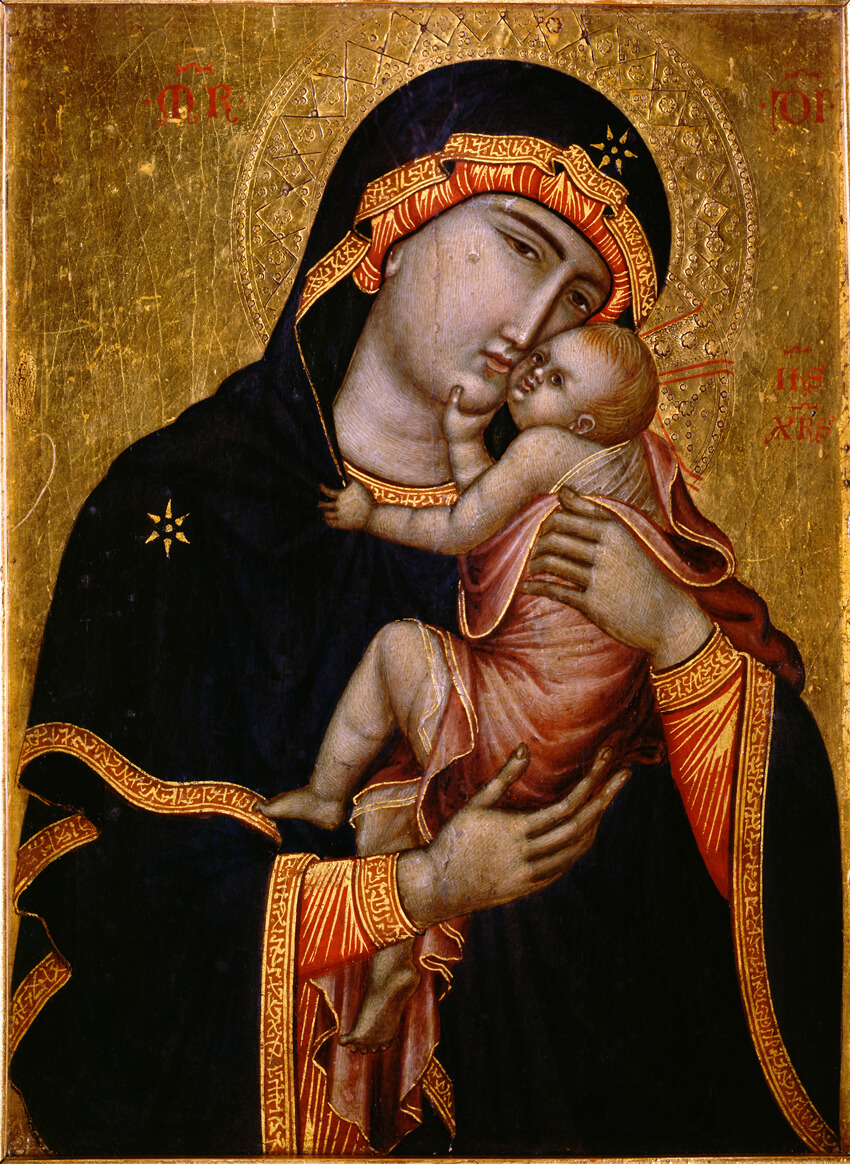 -Imagine that we are living two thousand years ago, during Jesus' life on earth and that someone tells us: "Jesus is the Messiah, he is the long-awaited Saviour," and that we take this for a falsehood. Then, a few years later, we find out about his public life, his miracles, his death on the cross and his resurrection., Then we would say: "If only we had known, we could have met him!" I added: -I feel an inner call so strong, that I have decided to go to San Damiano. If this is true and the Blessed Virgin really comes, I will have gained something… if it isn't true I will have wasted three days. And my father answered: -You're right. I'll come with you! This was an amazing grace granted to me by the Blessed Virgin: the reconciliation of a father with his son. Only love can conquer hate. This is how, after finding my heavenly Father, I found my earthly father.
"Our arrival in San Damiano"
Towards the month of June, my mother had regained her health. So my wife and I left for San Damiano, accompanied by my parents. We arrived on a Thursday at midday and then left on the Saturday. When we got out of the car, in front of the church, the sun gave us a sign: it was a disc that moved, placing itself in front of the sun so that we could look at it without squinting. I didn't pay a great deal of attention to this. I wasn't looking for a sign or anything sensational; my soul was in search of God. If God sometimes sends us a sign, we should not stop to look for it; we should live by our faith. When I came close to the little garden, I knelt in front of the statue of Our Miraculous Lady of the Roses. I saw a tear roll down her face. I am still amazed today by this sight. I fully understand that I had offended God and his Holy Mother, that love also involves suffering and that we had been saved by the Blood of Jesus our Redeemer and by the tears of Mary, Co-Redemptrix. I ask the Blessed Virgin Mary to make me feel the depths of my sorrow for having offended God and for having made her, the Mother of Sorrows, weep.
"The first meeting with Mamma Rosa" "Our Lady asks you to spread her messages and organize prayer groups."
On the afternoon of our arrival, my wife and I walked past Mamma Rosa's house. At the entrance, some people were waiting in the corridor outside a small oratory. We went inside and the people explained to us that Mamma Rosa was receiving pilgrims and giving them messages in the name of the Blessed Virgin. A few moments later Mamma Rosa came out, accompanied by an interpreter. She approached us and started asking questions: -Have you just arrived? -Yes, Mamma Rosa -Where are you from? -From the north of France. -What do you wish to ask of Our Lady? The people waiting started saying: -Mamma Rosa, these people have only just arrived, while we have been here for days. But Mamma Rosa gestured for us to enter. I discovered this magnificent little chapel in which there was a small altar, some statues of the Sacred Heart, Our Miraculous Lady of the Roses, St. Joseph, St. Michael the Archangel, flowers, votive offerings and an extraordinary feeling of sacredness. The presence of God could be felt in that oratory. Mamma Rosa recited an Our Father, a Hail Mary and a Glory Be to the Father. Then she asked us again: -What do you wish to ask of Our Lady? I have a confession to make: although my innermost heart was spellbound, my spirit was in doubt, strongly in doubt...and I said to myself: "Can it really be true?". So I replied to Mamma Rosa: -We thank the Blessed Virgin for all the grace we have received. We have a lovely family, good health and plenty of work. Is there something that we can do for the Blessed Virgin? Mamma Rosa replied: -Our Lady asks you to spread her messages and organize prayer groups. I must say that I was disappointed since I was so active in my work! And I thought: "If that is all there is to do!". But it took me 19 years to start spreading the messages of the Blessed Virgin through the association "The Apostles of Our Miraculous Lady of the Roses".
"Our Lady said: "Above all don't go to the seaside with the children!"
I decided to ask Mamma Rosa a question. I had noticed that there were a lot of caravans and tents, since so many pilgrims had flocked to San Damiano. We had just bought a second-hand caravan and booked a campsite in Arcachon Bay so as to spend our holidays there in July. I didn't explain all this to Mamma Rosa. I simply asked her: -Mamma Rosa, can we come here on holiday with the caravan? Mamma Rosa answered me as follows: -Our Lady says you can come here on holiday. It will be good for the health of body and soul alike! And then, she turned to us again, pleading and distressed, and said to us: -Our Lady says: "Above all don't go to the seaside with the children!". At that moment my wife and I looked at each other and the doubt I had disappeared, since I had not spoken about my plans. We understood that the Blessed Virgin was present. This took place in the middle of June 1970.
"My second meeting with Mamma Rosa"
The next morning, attending Holy Mass in San Damiano for the first time, I made eye-contact with Mamma Rosa. I will never forget it. It was a revelation. I understood, through that indescribable gaze, full of goodness and love, how much I owed to the prayers of that humble woman, to her merits and sufferings, for having come, like so many other pilgrims, to the feet of the Blessed Virgin to receive her motherly protection. I understood only later that following Mamma Rosa's example, we too must pray fervently to our merciful Mother so that she may obtain our salvation from her Divine Son, salvation for our brothers and sisters, the conversion of sinners, the liberation of souls in purgatory and also grace for the whole world.
"Our holiday in San Damiano"
We then left for France, after which we returned to San Damiano with the children before the first Friday of July, to spend the holidays there. We had spent an extraordinary month, because we had discovered prayer, we had discovered another life. There was an atmosphere of great fraternity, of great charity. I was pervaded by a supernatural joy and serenity. However, physically, the conditions were difficult: in fact, we slept very little due to the heat that would build up in the caravan, and there was neither water nor trees, but after finishing that month, I would have given ten years of my life to repeat such a holiday. Then we kept coming to spend our family holidays in San Damiano.
"Fortunately you didn't go to Arcachon!"
We left San Damiano on 2 August. But with a great desire to return, so much so that we left the caravan there and returned on August 15, because we had three days' holiday. That day, we met a friend of my wife's who told us: "Just as well you didn't go to Arcachon Bay!". In fact, during the night between 31 July and 1 August a tornado had struck, devastating the entire campsite.
"Jesus awaits you on the first Friday of each month!"
When I came the third time, on 15 August 1970, Mamma Rosa told me: "Jesus awaits you on the first Friday of each month!". I was privileged to pray next to Mamma Rosa each time I came to San Damiano, and to listen to the messages of wisdom and love that Jesus and our Heavenly Mother gave to Mamma Rosa. A few years ago, reading this message from the Blessed Virgin: "I have given much grace to San Damiano, my children, I have converted many souls, I have healed many people and out of human respect people do not make their testimonials known and my Triumph does not come!", I was overcome with remorse, I reproached myself for not telling my story about that catastrophe. In fact, in that campsite we might have lost our children or our lives. So, mentally, I made this promise to the Blessed Virgin: "Heavenly Mother, I promise you: on Monday I took the train and got off at Arcachon to collect some interviews from the time and give my testimonial". It was 6 pm. Once the prayers were over, I went up towards the village and met a group of pilgrims who were arriving and singing in a strong southern accent. -Where are you from? I asked them. -From Arcachon, they replied. I should point out here the kindness of the Blessed Virgin in preventing me from going to Arcachon, while giving me the possibility to meet first-hand people who could help me give my testimony. I informed the group leader of my intention and he said: "There was a metre of water in the house that time: I remember that day well, I can tell you! But don't worry. I'll send you the newspaper clippings". I received them the following week. And of course the newspaper articles spoke of this catastrophe that had killed twenty campers. All the grounds of the campsite had been devastated. It was one of the greatest catastrophes in the south-east of France in the last century. Six weeks before this disaster, Mamma Rosa had told us in the name of Our Lady: "Above all, don't go to the seaside with the children!".
"Thank you Heavenly Mother!"
How grateful we must be to our Heavenly Mother for having called us to her feet, for having protected us and given us so much grace, and how much we should thank her by making this blessed place and its messages known to all our brothers and sisters throughout the world!
P.B. (Francia)